An excellent article by Robert Monell on an obscure Jess Franco title starring Lina Romay and Pamela Stanford.
EL FRANCONOMICON / I'M IN A JESS FRANCO STATE OF MIND
es Grandes Emmerdeuses
1974 82 MINUTES European Trash Cinema (U.S. import) DIRECTED BY CLIFFORD BROWN (JESUS FRANCO; Produced by Robert de Nesle-C.F.F.P>Paris; Screenplay by David Khunne; DP: Etienne Rosenfeld; Louis Soulanes; Music: Andre Benichou [Robert Viger?]; P: Ramon Ardid. 82m Eastmancolor;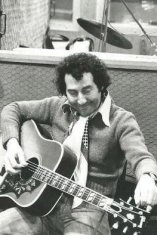 ABOVE: Bach-rock composer-guitarist Andre Benichou; who also scored Jess Franco's LORNA, THE EXORCIST (1974); THE OBSCENE MIRROR (1973); EXORCISME (1974); among other titles.
WITH: LINA ROMAY (Pina) PAMELA SANFORD [Monique Delaunay] (Tina), Willy Braque [Guy Peraud] (Kashfi), Raymond Hardy [ Ramon Ardid] (Agent 0069, Perez), Monica Swinn, Lise Franval [Lisa Ferrera] (Martine), Richard de Conninck, Fred Williams, Susuki (Radeck's female friend), Jess Franco(Martin)
(a.k.a. LES EMMERDEUSES; LES PETITES VICIEUSES FONT; LES GRANDES EMMERDEUSES aka Sexy a Go-Go)
A couple of air-headed diamond smugglers Pina and Tina (guess where they hide the diamonds!) travel to Istanbul to fence the jewels, as two agents track them. The women are captured by…
View original post 807 more words